April 6, 2011 – The Self-Insurance Institute of America, Inc. (SIIA) today hosted an exclusive fund-raising luncheon event for U.S. Senator Jon Tester (D-MT). Held at the Monacle Restaurant in Washington, DC, the event provided SIIA the opportunity to show its appreciation for Senator Tester's interest in sponsoring legislation to modernize the Liability Risk Retention Act (LRRA), which is one of the association's legislative priorities.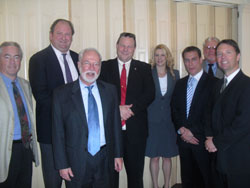 SIIA was successful in raising nearly $12,000 in political campaign contributions for Senator Tester, including a contribution from the association's political action committee (PAC). Individual contributions were provided by the following members:
Keith Fawcett, Brentwood Services, Inc.
Dick Goff, The Taft Companies, Ltd.
John Jones, Moulton Bellingham PC
Jim LeRoy, Meadowbrook Insurance Group
Larry Mirel, Wiley Rein, LLP
Don McCully, Roundstone Insurance
Dave Pike, Preferred Contractors Insurance Company, RRG
Phil Salvagio, Preferred Contractors Insurance Company, RRG
Glenn Saslow, Saslow Lufkin & Buggy, LLP
This is the second successful PAC event that SIIA has hosted this year. Last month, the association held a breakfast event for Rep. John Kline (R-MN) in Washington, DC, during which the association presented the congressman with more than $11,000 in campaign contributions, including a check from SIIA's PAC.
"These events demonstrate that SIIA is serious about increasing its political influence in Washington, DC," said SIIA Chief Operating Officer Mike Ferguson. "SIIA's ability to financially support members of Congress who appreciate the self-insurance/alternative risk transfer industry is critical to our lobbying efforts."
According to Ferguson, the association anticipates hosting additional PAC events for other key members of Congress over the next several months. Information about how to contribute to SIIA's PAC can be accessed on-line at www.siia.org.